Sirehna collision avoidance system, BRIZO, offers automatic detection, tracking and geolocation of any obstacles on the surface up to 1km.
BRIZO interfaces with sensors on board any type of vessels in a new building or refit configuration. BRIZO can be used in a day and night application and offers to possibility to use augmented reality to be immerse in the vessel environment.
BRIZO can track, alert & suggest manoeuvre of the velocity obstacle type. A map indicates to the helmsman all the possible trajectories/velocities which allow to avoid collision with all the tracks present on the water, taking into account the ColReg recommendations.
Sirehna Brizo collision avoidance system offer a ultra-connected solution to mark the digital shift of the worldwide maritime fleet.
"Digitalization will change & revolutionise the maritime and port sector".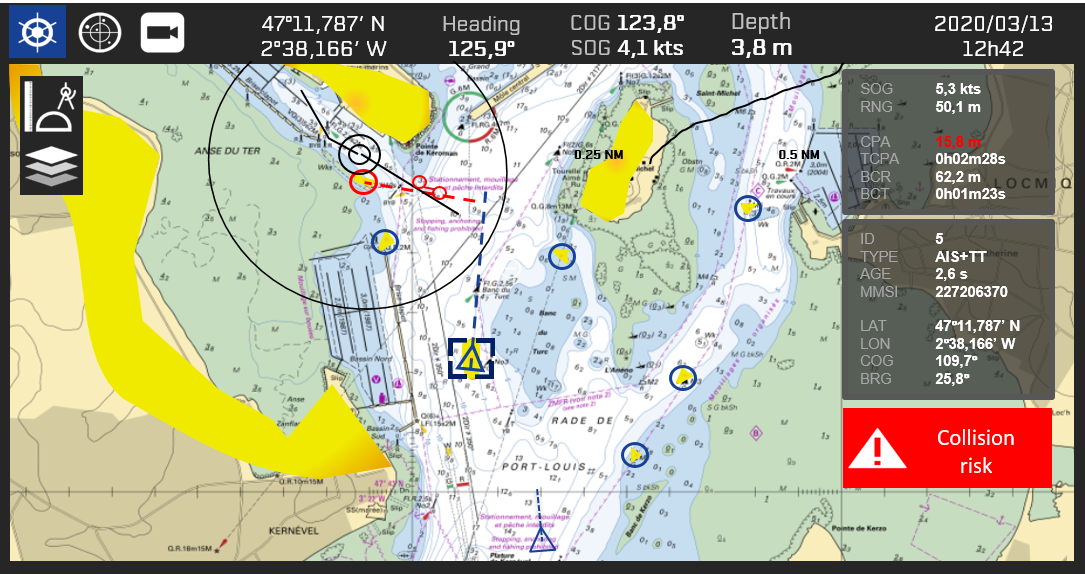 Motion & Objects detection
Automatic thermal detection, tracking & geolocation of floating objects on the surface up to 1 km
Standard sensors:

Radar (Ethernet / video) and/or ARPA (NMEA)
AIS (NMEA)
Navigation : GPS, GNSS, Gyrocompass, depth sounder, log (NMEA
Optional sensors:

Lidar (Forward looking)
High-sensitivity and/or thermal cameras

Collision avoidance manoeuvre
Suggested manœuvre is of the velocity obstacle type indicating all the possible trajectories
Real time analysis on specific criteria (position, speed, course). Alerts based on CPA & BCR

Alerts Management
Alerts based on calculation method:

The date of last observation and propagation of the trajectory/route of the object if it is no longer observed.
Geographical position and bottom speed
Nearest point of approach (CPA / BCR)

Graphical User Interface
Operator console & remote tablet with user friendly interface ang graphical datas showcasing real time traffic
View of the environment around the vessel by merging tracks/routes (AIS, radar) and displaying the results on a sea chart background.
Interaction with the routes to find out their characteristics. Avoidance maneuver maps are displayed continuously around the vessel; past & future routes of the ship are displayed.